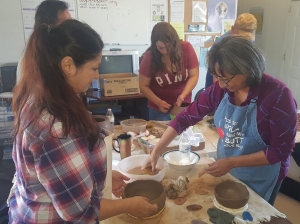 Healthy Family Services holds the:
 "Expression Through Art Program"
Every Saturday & Sunday
from 11AM to 2PM at the Blue Trailer.
This is an "Open Art Studio"  which means, you can attend and work on any type of art you'd like, in a caring and open community setting.  We also are blessed to have two micaceous potters and a beadworker  from here in Nambe Pueblo; Martha Romero, Robert Vigil and Delores Chavez.  They are happy to assist you in whatever project you'd like to work on.  You can bring your own materials or use ours.  Our group is designed to casually discuss community issues and innovative approaches to creating a healthy and loving community

through creativity and humor. All while keeping our creative traditions alive.  Children are 



encouraged to attend with caretakers present.
PLEASE JOIN US!